5-in-1 adapter
One C port is not enough! Enhance the capabilities of your MacBook with the UGREEN adapter. The device features 3 USB 3.0 inputs, HDMI 4K input, and an SD and micro SD card reader. The product is distinguished by its wide compatibility and is equipped with a number of security features that will keep your equipment completely safe. What's more, the adapter's power rating reaches up to 100 watts and it is ready to use without the need to install drivers!
Wide compatibility
The device works with most modern devices available on the market equipped with a USB-C port, including: Apple MacBook, Huawei MateBook, Samsung S10, Dell XPS15, Micosoft Surface Go.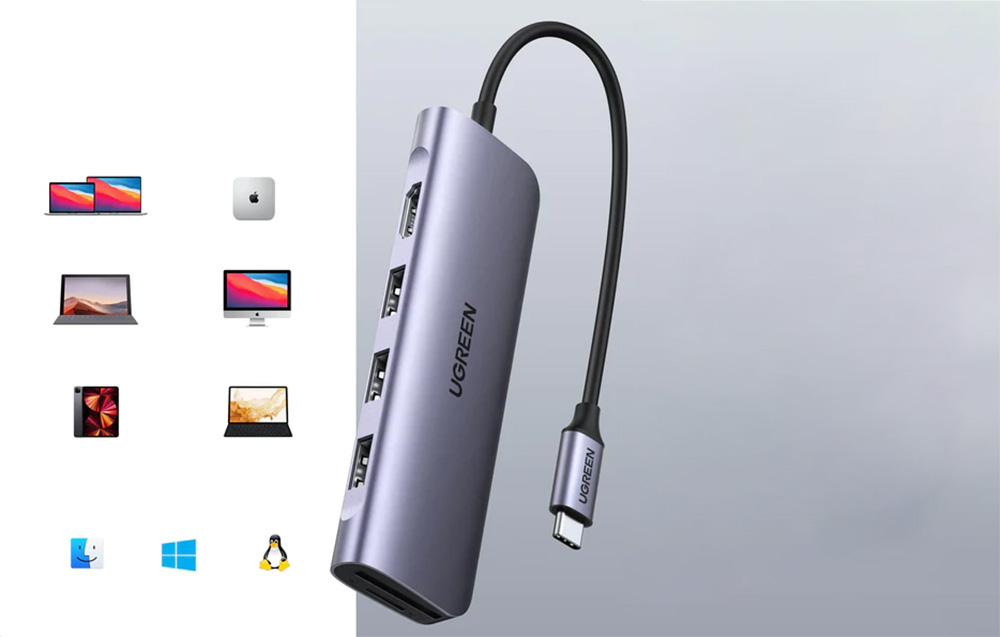 Plug & Play
The adapter does not need any additional drivers. You just need to plug it into your device and immediately enjoy its operation. In addition, it is possible to use SD card and micro SD card simultaneously.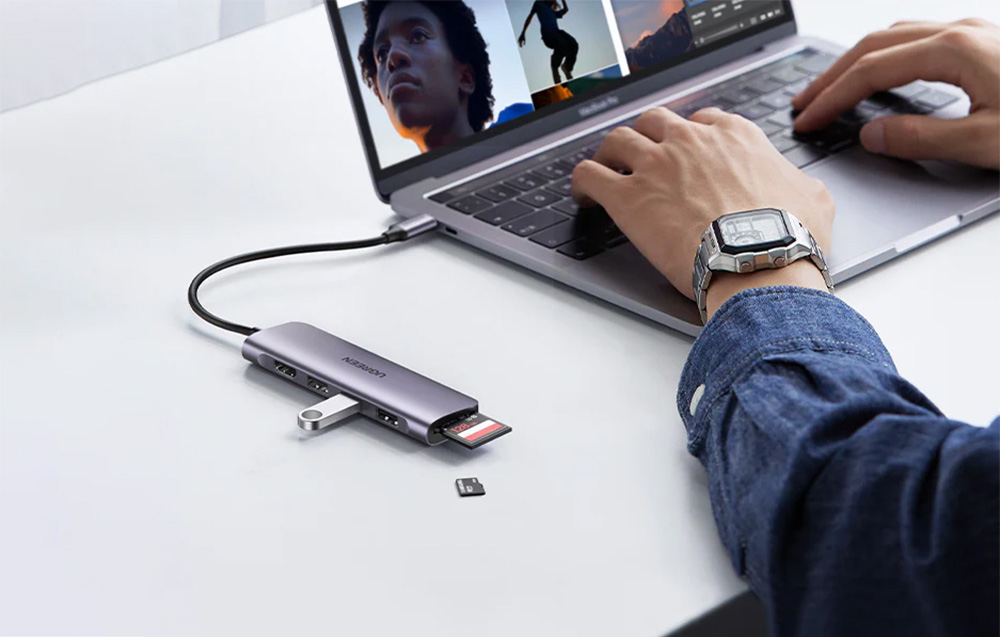 Reliable protection
The device has a number of protections to guard against unexpected situations such as short circuit, overcurrent or overvoltage. Ugreen provides reliable protection anytime and anywhere, but that's not all! High-grade aluminum was used to make the adapter, so it effectively dissipates high temperatures, so you don't have to worry about it overheating, even when all ports are in use!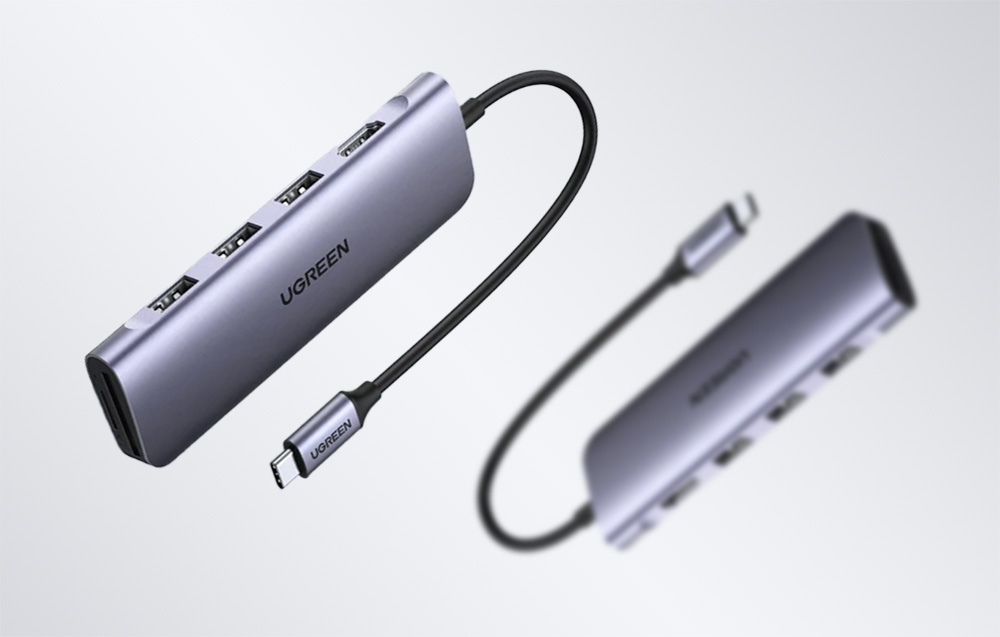 No more limitations
Now you can easily duplicate your MacBook's screen! The adapter supports 4K UHD and Full HD 1080p, so you can enjoy your device's big-screen video in perfect resolution without any hindrances! Do you have photos on an external drive, but do not have access to a computer? Now it's not a problem! Just plug the adapter into your smartphone and enjoy sharing them with the world. What's more, the adapter is extremely lightweight and portable, and you won't have the slightest problem transporting and storing it! Forget about the limitations!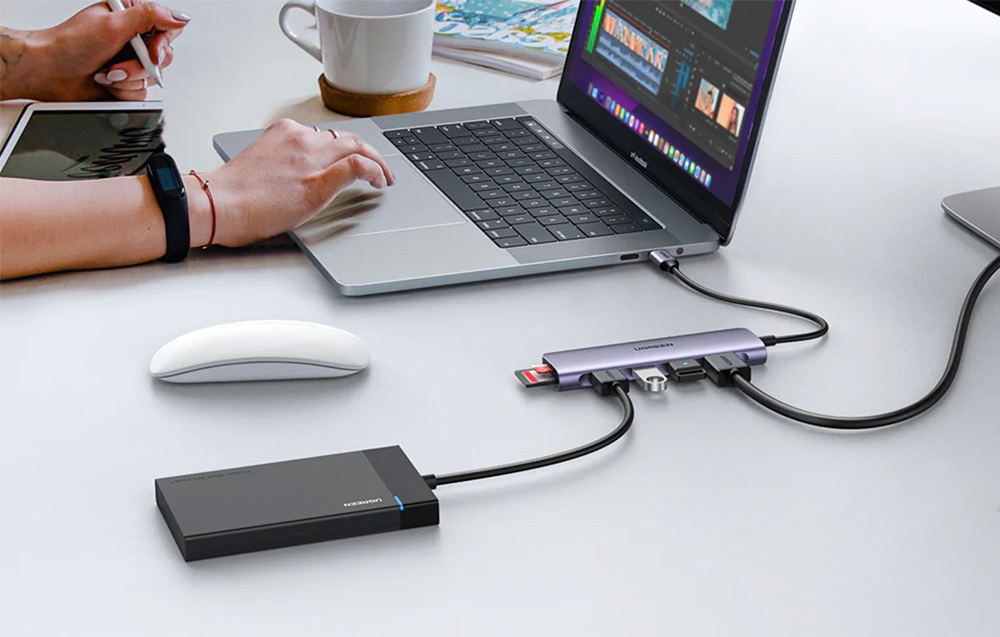 The speed you deserve
With the Ugreen adapter you can transfer your files even faster. The 3 USB 3.0 ports allow you to transfer data at speeds as high as 5 Gbps, which is up to 10x faster than with USB 2.0! The device is also capable of transferring 100W of current. You don't have to worry that by using other features of the adapter, you won't be able to power your macbook. Use multiple ports at the same time and don't give up when your MacBook needs a power boost!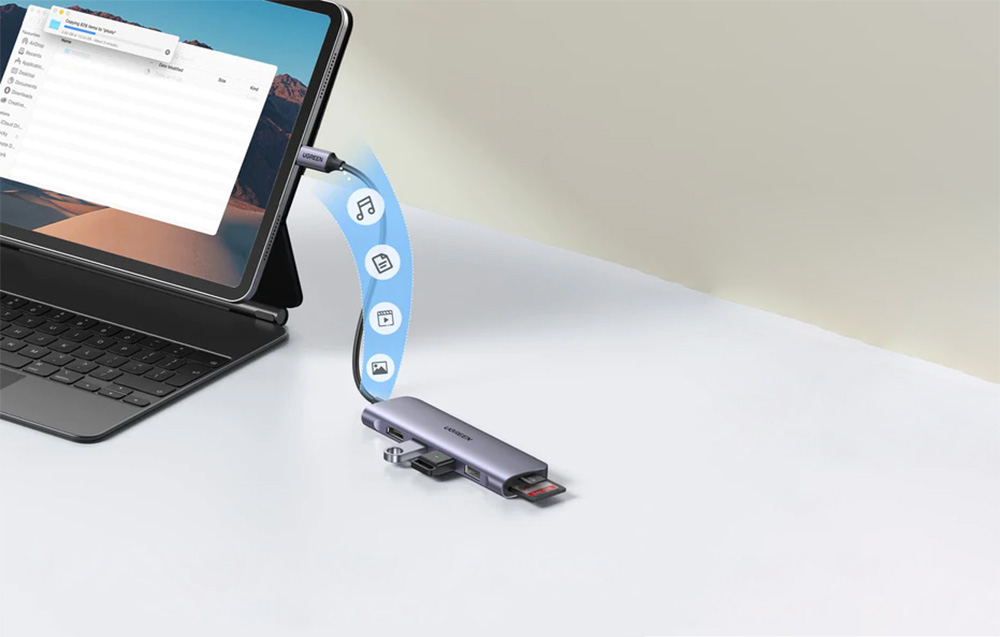 Specification:
| | |
| --- | --- |
| Model | CM195 |
| Plug | USB-C |
| Ports | 3x USB 3.0, 1x micro SD, 1x SD, 1x HDMI |
| Cable length | 15 cm |
| Transfer speed | Up to 5 Gbps |
| Material | Aluminum |
| Color | Gray |
| Dimensions | 11.5 x 3.6 x 1.25 cm |