Baseus Golden Contactor Pro 65W car charger (gray)
Opt for the Baseus Golden Contactor Pro universal car charger. It will delight you with its modern design and sturdy casing, but also with fast charging with a maximum power of 65W. It has 2 USB-C and 1 USB-A ports, allowing you to charge 3 devices simultaneously. It is compatible with a universal voltage of 12 - 24 volts, making it suitable for cars, RVs or larger trucks.
Fast charging
The Baseus Golden Contactor Pro has 2 USB-C ports (25W + 20W) and a single USB-A port (20W). The USB-C outputs are compatible with Apple PD, Xiaomi QC, Samsung AFC and other fast charging protocols. USB-A additionally supports Huawei SCP / FCP. Bet on outstanding performance that will never let you down! Compatibility with 12 volts - 24 volts makes it suitable for all common car cigarette lighters.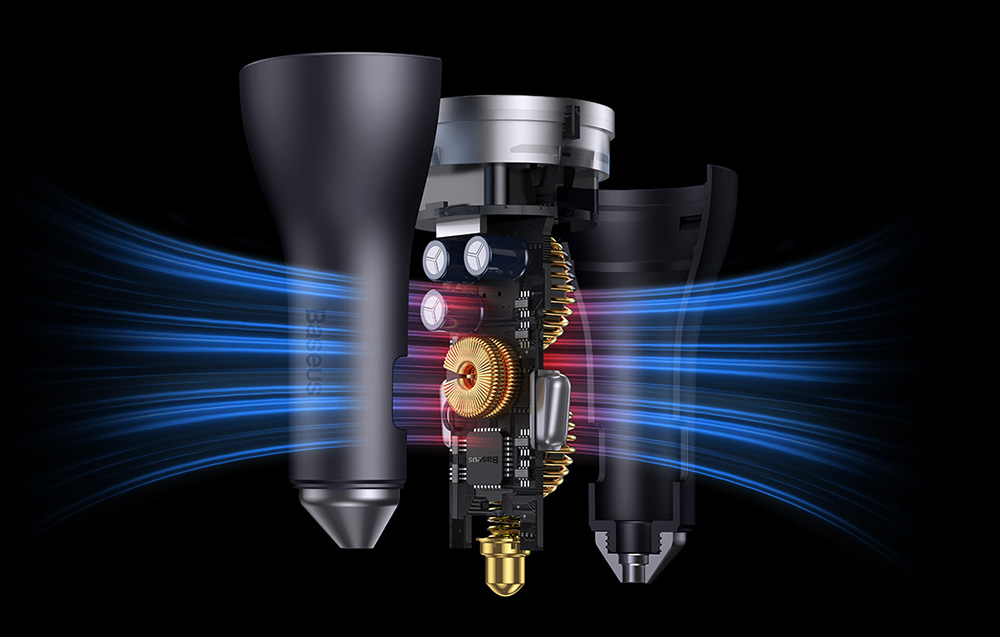 Protection on multiple levels
Thanks to smart solutions, the charger protects the charged devices from overcharging. In addition, the case is distinguished by excellent heat distribution and temperature resistance. Baseus Golden Contactor Pro also protects against overheating, overcurrent, overvoltage or electromagnetic fields, among others.
Robust design
Thanks to its well-thought-out design and non-slip surface, the charger remains stable and does not slip even on a bumpy road. The casing made of high-quality ABS and PC is resistant to scratches and mechanical damage, plus it looks extremely modern and elegant.
Specification:
Manufacturer
Baseus
Model
CGJP010013
Material
ABS + PC
Ports
2 x USB-C, 1 x USB
Input
DC 12 - 24 V 7.0 A max.
Outputs
USB 5V=3A; 9V=2A; 10V=2A; 12V=1.5A
USB-C1 5V=3A; 9V=2.77A; 12V=2.08A
USB-C2 5V=3A; 9V=2.22A; 12V=1.6A
Total output power
65 W max.
Color
Gray
Weight
Approximately 39 g
Dimensions
53.9 x 34 x 34 mm