Baseus Metal Gleam Series 4-in-1 Hub
Looking for a reliable tool that will allow you to work more efficiently? The Baseus Metal Gleam Series 4-in-1 Hub is the perfect answer to your needs! With as many as 4 available ports and lightning fast data transfer speeds of up to 5Gbps, check out what else you get! At the same time, the product is extremely durable, and thanks to its compact size you can always carry it with you.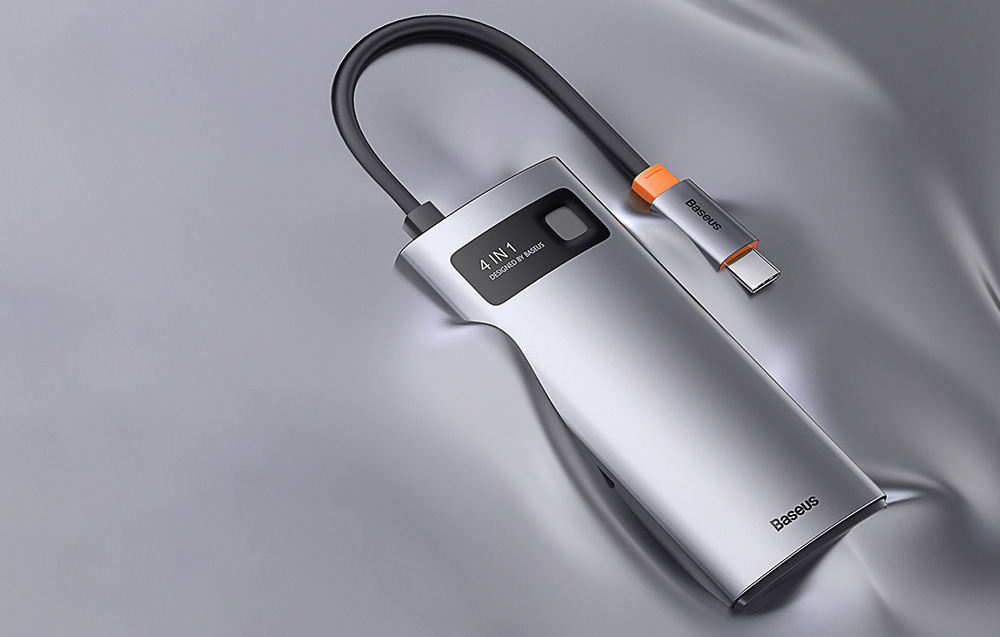 Enhance the capabilities of your laptop
Use just one USB-C input of your laptop to gain the ability to connect several different devices to it. The hub by Baseus is equipped with 4 ports of 3 USB 3.0. Now you can easily increase the functionality of your computer and make your work easier. No more problems with too few ports!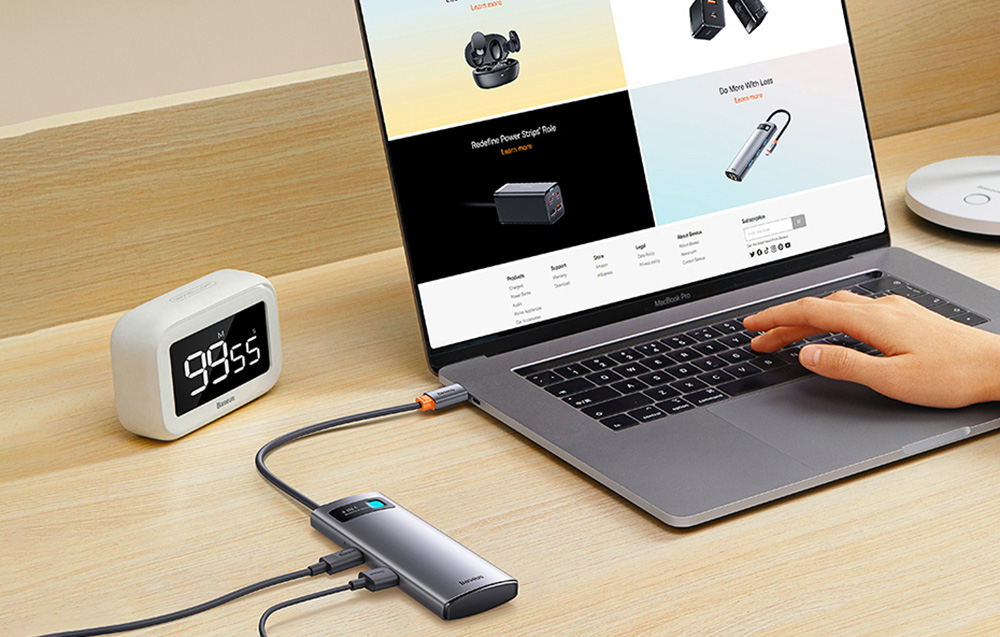 Transfer files in no time
The hub also allows you to transfer files quickly. USB 3.0 ports allow you to transfer data at speeds of up to 5Gbps (500MB/s). This means you can copy even a lot of photos, videos, music or documents in a short time. No more waiting indefinitely for your files to be transferred!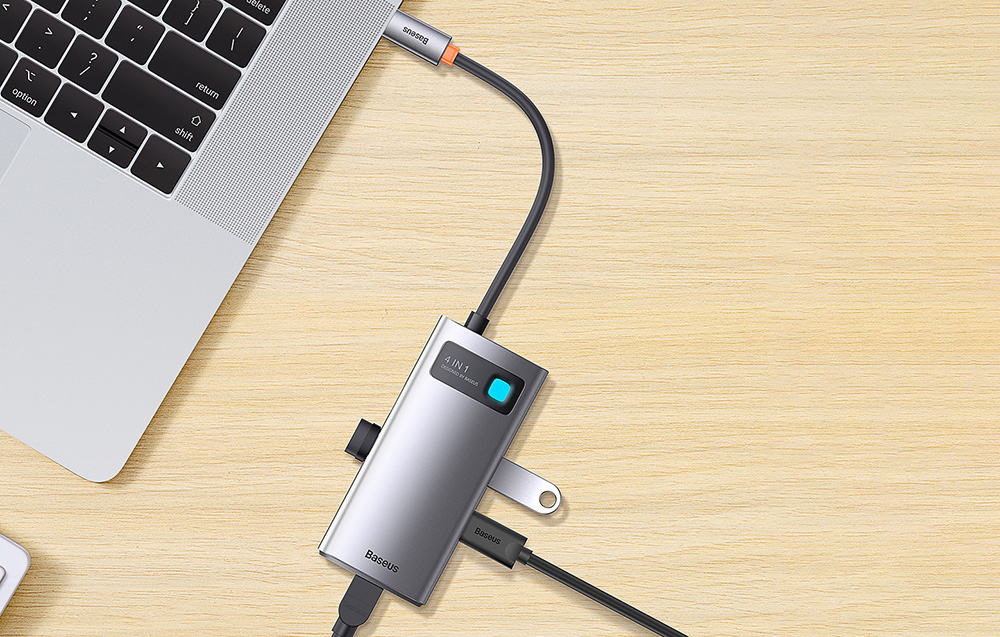 Additional USB-C power port
Are you going to use more advanced devices? No problem! The hub is equipped with an additional USB-C power port, which supports an input current of up to 5V / 3A. Thanks to this, you can also use high-capacity hard drives up to 4TB without any problems. With Baseus you don't have to limit yourself!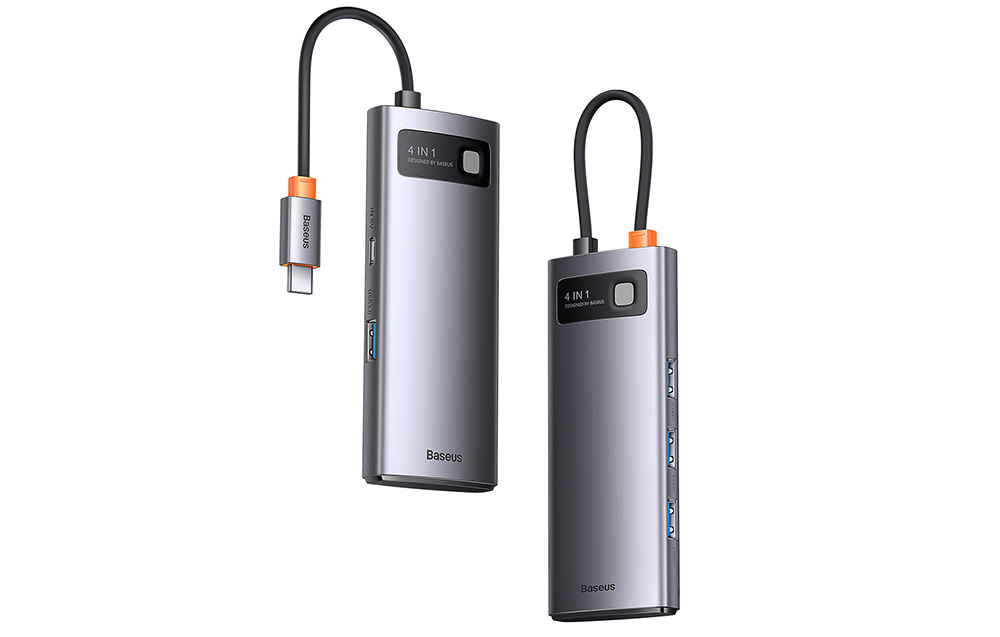 Wide compatibility
Do not be afraid of compatibility problems with the hub. It works with many versions of Windows, Mac OS or Linux. It also supports tablets and smartphones from various manufacturers - from Apple to Samsung to Huawei. No matter what devices you use - the Baseus brand hub will most likely work fantastically with them. What's more, thanks to the Plug&Play system, you will easily connect it.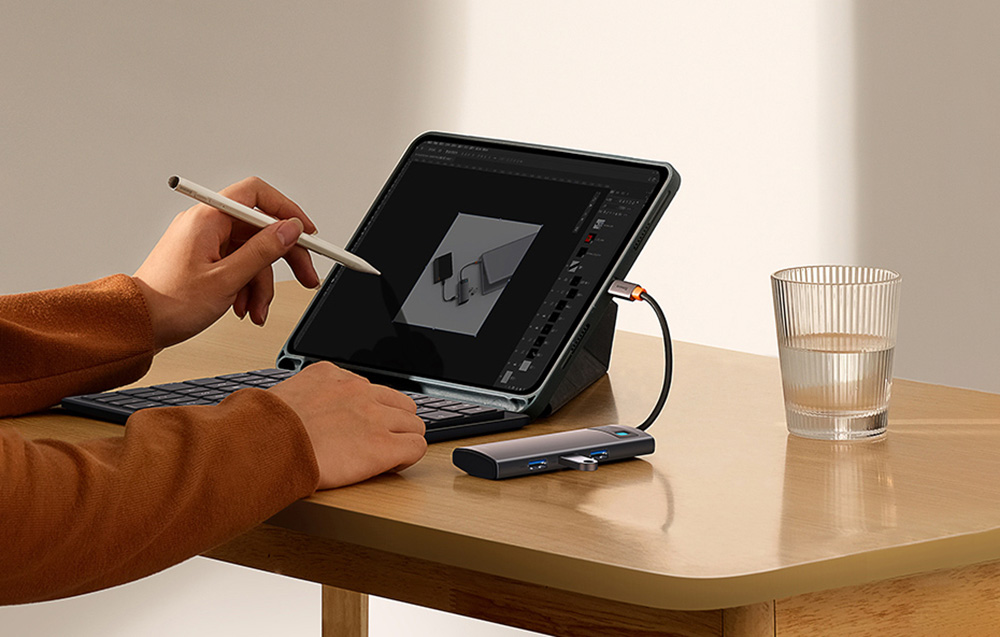 Perfectly thought-out design
The Baseus Metal Gleam Series hub is small and portable. You can always have it at hand and use it whenever you need it. The product is also characterized by high durability. Made of aluminum alloy - it is resistant to wear, color fading, damage and heat. Pleasant to the touch texture and elegant modern design are its additional advantages. In addition, a blue, luminous indicator in real time indicates the status of the device.
Many applications
This practical device will find many uses at home, at work and while traveling. If your smartphone supports OTG, using the hub you can connect a portable drive to it and conveniently copy the files you need. Want to make it easier to work on your tablet? Combine a mouse and keyboard with it to use it just like a laptop! Now you can comfortably write emails or edit photos.
Specification
| | |
| --- | --- |
| Brand | Baseus |
| Name | Metal Gleam Series 4-in-1 Multifunctional Type-C HUB Docking Station |
| Model | WKWG070013 |
| Color | Gray |
| Interface | USB-C |
| Ports | 4x USB 3.0 |
| Transmission speed (USB 3.0) | Up to 5Gbps |
| Input | 5V / 3A |
| Output | 5V / 0.9A |
| Supported operating systems | Windows, Mac OS, Linux |
| Material | Aluminum alloy |
| Cable length | 170mm |
| Dimensions | 44.5x115x16mm |
| Weight | About 82g |