6in1 Baseus Lite Series hub
Your device has too few ports? The 6-in-1 hub from Baseus will solve this problem. The WKQX050102 is equipped with USB, USB-C (PD), HDMI ports and a TF/SD card slot. It offers fast data transfer rates of 500 Mbps and 4K video. It is compatible with a wide range of devices, and a special button will let you stop the screen display with one click.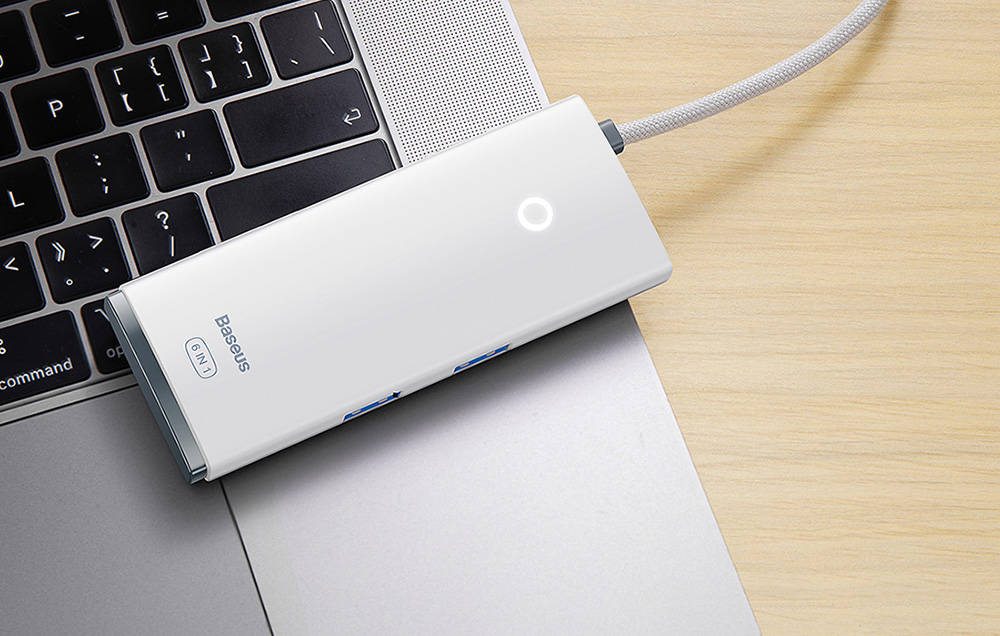 Project your image in HD quality
Business meeting, university lecture - in these and similar situations you will find Baseus hub useful. The device allows you to display high quality 4K image in 30 Hz resolution. Thanks to that you can display presentations or movies on bigger screen. What is more, for the sake of privacy, the hub has been equipped with a button, which you can use to turn off the display.
Transfer files quickly
Baseus hub has been equipped with 2 USB 3.0 ports and USB-C port with Power Delivery support, thanks to which you will be able to transfer your files to another device at the speed of 500 Mbps oraz quickly top up your smartphone. What is more, the device supports backward compatibility with USB 2.0. In this case, transmission speed is 480 Mbps. On the other hand, the SD/TF card slot will allow you to transfer data to another device at a speed of 60 MB/s. Additionally, the built-in chip is responsible for a stable signal and proper operation of the device.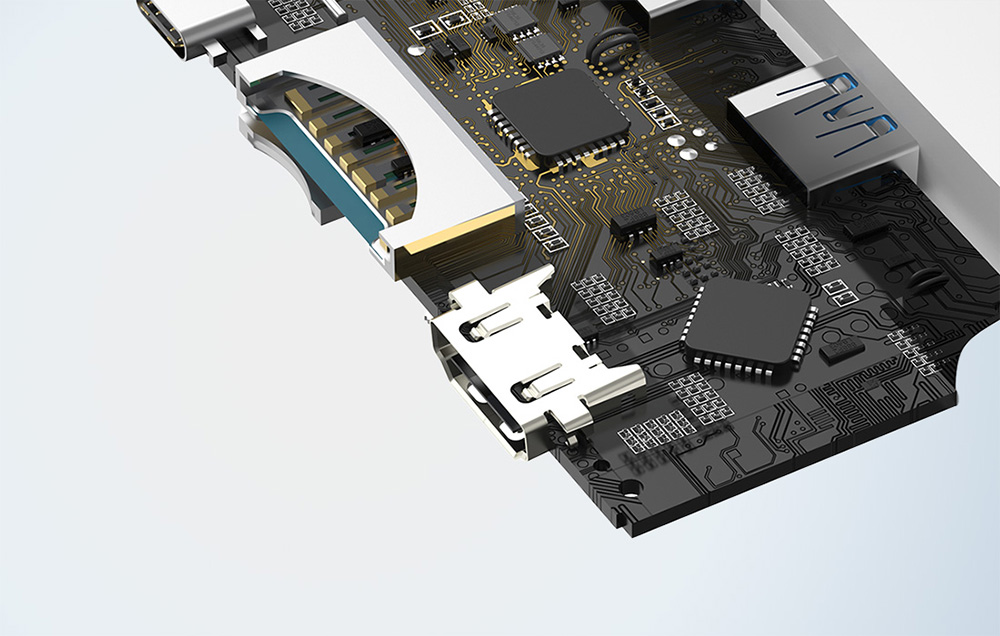 Use the full potential of your smartphone
The device also supports OTG function. It also supports OTG, which means you can use it to display images from compatible smartphones on the big screen or connect them to portable drives.
Broad compatibility
Thanks to plug & play, you don't have to worry about problems connecting the hub to your device. Moreover, WKQX050102 works with such systems as Windows, iOS, Linux or Android. You can successfully connect such devices as laptops, tablets or smartphones to it.
Compact, solid design
The Baseus hub is distinguished by a compact design, thanks to which you can successfully store it in your backpack or handbag. Moreover, ABS plastic finish is responsible for durability of the device, and the cable braided with durable material ensures resistance to wear. Moreover, the white light indicator will let you know when the device is working.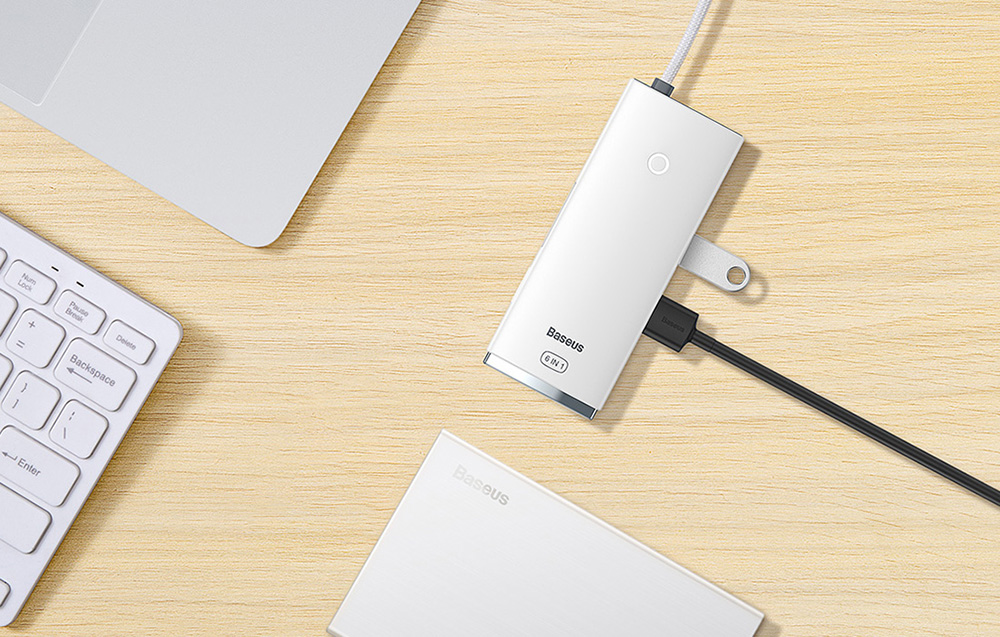 Specification:
| | |
| --- | --- |
| Brand | Baseus |
| Model | WKQX050102 |
| Color | White |
| Material | ABS |
| Weight | 45 g |
| Input port | USB-C |
| Operating voltage | 5 V |
| Operating current | 400-2550 mA |
| Resolution | 4K@30 Hz HD |
| Output ports | USB-C (Power Delivery) USB 3.0 (backward compatible with USB 2.0), SD/TF, HDMI |
| Transmission speed | 500 Mbps (USB 3.0/USB-C), 480 Mbps (USB 2.0), 60 Mbps (SD/TF) |
| Compatibility | Laptops, tablets and smartphones with USB-C port |
| Systems supported | Windows, iOS, Linux, Android |